New for 2016 are our inflatable 'Ringo' rides; a very safe way to enjoy the thrill of getting on the water in a safe and controlled environment. A fantastic activity for a birthday, stag, or hen party or if a group of friends just fancy having a good laugh.
Ringo rides are available every day but we adivse booking in advance to avoid disappointment. To book the ringo rides you will will need to call WMSki  (01285 897493) and pay via credit/debit card.
Sessions on the ringos run in 15 minute slots and are guaranteed to bring a smile to your face. Wetsuits are optional, but life jackets & helmets will be supplied and must be worn at all times.
Prices
1-6 people £25 for 15 mins
7-12 people £50 for 30 mins
13-18 people £75 for 45 mins
19-24 people £100 for 1 hour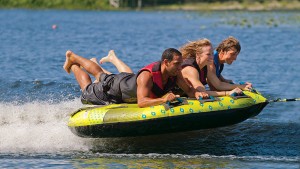 When you arrive in the Country Park, please make your way to the WMSki Cable dock reception where you will be met by one of our staff members and signed in.
You can then get changed and be ready to start your fun on the ringos once your instructor has completed your full safety briefing.
If pre-booked, we suggest you arrive at least 15 minutes before your allotted time. Please bring a towel and swimsuit to wear. There must be parental supervision for children under the age of 18 years, at all times. Payment is taken in full in advance to confirm your booking and is non-refundable.
Please contact us on 01285 897493.