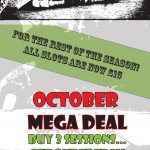 WMSki will be operating a Sesitec System 2.0 Wake Park, under new ownership, for the 2016 season. The System 2.0 will relocate to the new Wake Park which will feature the UK's first six tower cable. Steve Dyer, one of the new owners, will continue to manage and coach here alongside Charlie Marshall.
A system 2.0 is a 9 meter high two tower cable system which allows one rider on the water at a time. This system is a great way for beginners to learn as the upward pull makes the starts effortless, and the speed of the cable can be adjusted by the operator for assistance. As well as being great for beginners it can help riders of all levels whether its perfecting a 360 off the kicker, pressing a rail, your first raley or that s-bend to blind! All this is helped by being coached one-to-one with one of our instructors.
WMSki is the perfect venue for parties. We have packages for corporate groups and parties. You can book the site for the sole use of your group and we will take care of everything including equipment and instruction.
Even if you have never touched a snowboard, kiteboard or surfed, learning to wakeboard is still within your reach. Our skilled coaches have an enviable reputation and their great instruction will have you wakeboarding in no time!
Keep up to date with what is happening on and off the lake.